27 May 2015
Myths delay solar energy expansion – May 27, 2015
In relationship to its potential, solar energy continues to draw attention in Sweden by its absence. A new investigation among building owners, architects and county districts reveals that the reason for there not being more people investing in solar energy is that they believe it is expensive, troublesome and complicated. The investigation was carried out via a wide-range telephone survey by the analysis firm of United Minds on behalf of SolTech Energy.
Sweden has a high amount of solar radiation, comparable with many countries in Central Europe, so the potential for making use of solar energy is great over the entire country. But, despite a doubling of the solar cell market in 2014, only 0.06 percent of Sweden's entire energy market was furnished by solar energy according to current statistics from the Swedish Energy Agency. The corresponding figure in Germany – where conditions necessary for solar energy are similar – is approximately 7 percent.
A majority of those questioned in the investigation pointed to the cost, and the time it took to recover that cost, as the primary reasons why they refrained from investing in solar energy. But today's solar energy solutions cost a fourth of what the prices were for an ordinary single home in 2010. And these prices, according to the Swedish Energy Agency's statistics, continue to fall.
"I believe that many have a dated picture of the cost-bite: The fact is that solar energy prices have fallen and its effectiveness has risen. Now, the cost-recovery time is around 10 years, and people can even – as you are no doubt aware – earn money today as micro-producers," observes Frederic Telander, CEO SolTech Energy.
Two of five answer that legal and/or administrative rules are the biggest problem causing people not to invest more in solar cells. Civil servants working on a county level think that local politicians have worked hard to increase the share of solar energy's contribution, and further respond by pointing to politicians serving at a national level as the ones duly invested with the responsibility of widening the use of solar panels.
Also coming to the fore are perceptions to the effect that solar cells are unattractive or bulky. But a great deal has happened in terms of technique over the past years: Today, for example, it is possible to install transparent, fine-film solar cells in windows that absorb solar radiation, or to integrate solar cells under roof panels in glass and, in this way, gain both an energy solution and an eye-pleasing building material in one.
"Those who responded are representative of the people who have a vital say in how buildings are designed, and the majority are agreed that we need more renewable energy, and quite obviously, there is a great deal of unused potential in solar energy," continues Frederic Telander.
Sweden's House of Parliament should be able to supply 25 Swedish households with electricity
A calculation worked out by SolTech Energy reveals that the building housing Sweden's Parliament (Riksdagshuset) should be able to make both economical and environmental savings with a solar energy installation. 1,584 sq. m of the building's roof is suitable for the installation of solar cells; where the panels would be angled at 20°, faced in a southward direction. The energy production would then be 166,192.5 kWh per year, enough to supply approximately 25 Swedish homes with electricity for a year. The carbon dioxide saving should be 89,145.6 kg per year, which corresponds with the amount of carbon dioxide released from a car over the course of driving 17 laps around the Earth.
For more information, please contact
Frederic Telander, CEO SolTech Energy
Phone: +46 8 441 8846
Email: frederic.telander@soltechenergy.com
Quotes from the investigation
"Private individuals think and believe that solar energy solutions are expensive. All these people very likely do not check out what they actually cost, but rely on what they hear – that it's an expensive solution."
– County
"There are no economic preconditions."
– Building/property owner
"We have legislation that hinders us. We can't deliver electricity to a net and we can't deliver it between buildings."
– Building/property owner
"The solutions are somewhat difficult. People, as you know, want to be able to just ring up a local tradesman, who will come round and set them up."
– County
"There's a lack of competence in real estate/property owner companies"
– Branch Association within the real estate/property management sector
"Tax regulations just now are the subject of heated debate. They are very complicated and the buy/sell structure is not set. The Tax Department has different rules for real estate/building properties and companies. Digging into the regulations is a pain and there are no far-sighted, clear regulations."
– Architect Bureau
Presentation of an example calculation: Solar cells on the roof of Sweden's House of Parliament
Here, SolTech Energy presents a calculated estimation, as an example, showing what economic and environmental savings a solar energy installation on the roof of Sweden's House of Parliament would bring about.
Estimated roof surface area for the installation and its operative effect
1,584 sq. m of the building's roof is suitable for the installation of solar cells, where the panels would be angled at 20°, faced in a southward direction. The operative effect of the installed unit is 176,000 Wp (Watt-peak, i.e. the effect the panels generate with a standard amount of solar radiation absorption of 1,000 W/sq. m)
Energy production: 166,192.5 kWh per year
This should be enough to supply approximately 25 Swedish households with electricity for a whole year (calculated on the basis that a household on average uses 6,700 kWh per year, on for example: a washer-dryer, dish washer, sundry electrical apparatuses, fridge, stove, lamps, and so on (according to the Swedish Energy Agency the consumption of household electricity in a small house, on average, is indeed 6,700 kWh/yr.).
During the period spanning May to August, the panels on the Swedish Parliament building should produce the most energy (approximately 60% of annual production). The remaining production throughout the year can be seen in the following: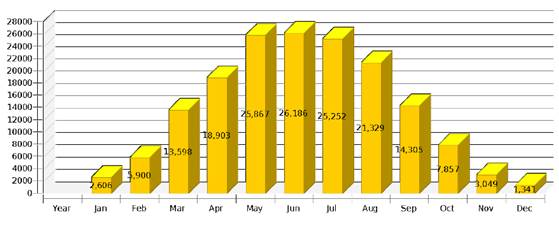 CO2 savings: 89,145.6 kg per year
This figure equates with the amount of carbon dioxide a Swedish car, in the course of being driven 17 laps around the Earth, would release into the atmosphere (calculated on the basis of a circumferencemeasuring 40,076 km, and that new personal cars registered during 2014 released, on average, 132 gm CO2/km). Source: Traffic Department
About the Study:
The calculations were made with the help of the "Polysun" program, a Swiss calculation tool for dimensioning of installat.
About the research study
The study was carried out by the strategy and analysis firm of United Minds, as a project for SolTech Energy. The interviews were conducted via telephone during the period spanning May 7–14, 2015. All told, 29 interviews were held, divided as follows: County-level civil service personnel from twelve of Sweden's klimatkommuner (lit: Climate Counties), representatives from nine property owner/real estate companies, five architectural firms, a technical consulting company, a home-owner interest association, and a branch association from the Swedish Energy sector. The people interviewed were from different parts of the country and represented small as well as large counties and businesses.
SolTech Energy in brief
SolTech Energy develops and sells a solar energy system based on research carried out over several years at Kungliga Tekniska Högskolan (KTH- Royal Institute of Technology). The system is a part of a building's outer shell; specifically, roofs and/or walls formed of glass (panels or level-surface glass) that function as both weather protection and sun-catchers for the production of heat, warm water and electricity. The assortment of suitable glass also includes unique fine-filmed solar cells in black and/or semi-transparent glass – or as isolated glass modules in various sizes and formats that allow for esthetic integration with a building's outer shell. The wholly owned subsidiary Wasa Rör T Mickelsson AB is also included in the parent concern. SolTech Energy Sweden AB currently has approximately 2,700 shareholders and plans to have its stock listed on Nasdaq/OMX, First North during the month of July 2015.